Daxxify: The long-lasting frown line treatment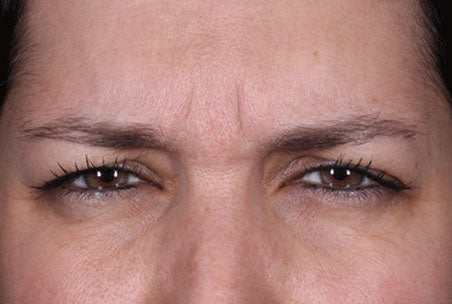 Although Botox was first to market, there have been several other competitor "neuromodulators" (simplified definition of a neuromodulator is a product formulated to relax the intensity of the contraction of a muscle) that have since been introduced - such as Dysport, Xeomin, and Jeuveau.
What is the difference, really?
I know how confusing it must be to you, as you are bombarded by marketing from the makers of each of these brands about why their product is "better." Companies try to lure potential consumers by claiming that their product lasts longer than competitors, or that the onset of action (how quickly you will see results) is faster, or that their formulation is more "pure" or "clean." And then there are medical practices or medspas that like to push one product over another and want you to believe that their product is superior (to be honest, it is oftentimes because of financial reasons as they have chosen to buy one brand and so they have to sell that one brand). As a board-certified dermatologist who specializes in aesthetics, my opinion is that it is most important for you to be especially selective in WHO you are choosing to inject you, more so than which product is injected.
Madison before treatment
Experience makes all the difference.
If you have an experienced injector, he/she will be able to choose the right product based on the uniqueness of your face. For example - when you smile, if your crows-feet are super spread out and diffuse, involving your entire cheek, an experienced injector may choose a formulation that has better diffusion when treating crows feet. If you also need a brow lift, which is an area that requires more precision and would result in detrimental eyelid droop if a product with too much diffusion was used, the experienced injector would know this and choose the appropriate less diffusing neuromodulator. An experienced injector is also skilled at creating a more dilute or concentrated neuromodulator formulation for your specific needs.
Madison 2 weeks after treatment
Facial anatomy is extremely complicated.
Furthermore, beyond knowing which product to use, it's even more important to know exactly how to inject your specific muscles on your face. You cannot learn facial anatomy in one weekend course. We all have asymmetry (left forehead might be stronger than your right forehead, or one brow might be lower than the other, etc) and we express with different muscle intensity (some people are very animated with their foreheads when they talk, while others smile all of the time, and others furrow their brow constantly). How do you relax all of these muscles and still look super natural? As you can see, there is an art to injecting.
Madison 6 months after treatment
What does Dr. Kim think?
In the meantime, in an effort to keep you updated with the latest in dermatology, let's welcome the newest player in the world of neuromodulators – "DAXXIFY." This product claims to be the first and only neuromodulator stabilized with Peptide Exchange Technology (PXT), and it is free of both human serum albumin and animal-based components. The biggest difference with the DAXXIFY study results, compared to that of all of the other neuromodulators, is how long it lasts once injected. Most other neuromodulators last around 3 months. During the SAKURA Phase 3 Clinical Trial Program, DAXXIFY demonstrated a 6 months median duration and some patients maintained treatment results for 9 months.
Madison 9 months after treatment
Is this really true?
I am excited to find out. DAXXIFY will be first released to select medical professionals in early 2023 – and happy to share that Flora Kim Dermatology will be one of the first practices in Dallas to try it. In the meantime, if you are curious to learn more about neuromodulators and how they can play a role in your overall skin goals, please do not hesitate to contact our office and schedule a visit with me. I am at your service and would be happy to answer any and all of your questions. Here's to less wrinkles!